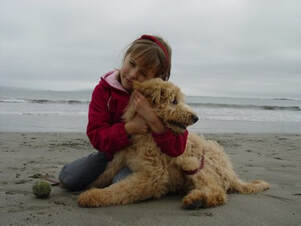 Puppies are ADORABLE and everyone wants one, But owning a puppy is just like adding a child to your family. So make sure you are choosing one of our puppies after careful thought and consideration to your family's needs, home and lifestyle. There is an element of reality when having a puppy, they are a lot of work and it is perfectly normal for puppy behaviors such as chewing, biting, jumping, digging, playing and frequent urinating, being a dog means doing these things! Your puppy has no idea how to behave in your home, it is your responsibility as the new owner to train your puppy to learn how to act. That is why we strongly encourage professional puppy classes to help you and your family to have the perfect pet.

As the breeder I have introduced the puppies to what they are suppose to learn in the limited time I have with them (birth to 7-8 weeks of age.) Please DO NOT expect them to be perfectly trained and understand that accidents can happen and whining in the crate especially within the first week in their new home. You as the new owner must carry on the training that has begun to insure proper and complete training for a long, wonderful and rewarding relationship with your new puppy.
---
---
The Vet visit and care
Your puppy will come with a complete vet health exam from Dr. Beach at Beach Veterinarian Clinic. The vet exam include; checking for normal temperature, listening to their heart for irregular heartbeat, checking for ear infections, checking genitals for any abnormalities, checking eyes for clarity, examining the nose, skin and mouth plus knees for luxating patella. Your puppy will also be checked for all internal parasites ( round worms, hook worms, whip worms, giardia and coccidia via stool sample under a microscope. Your puppy will get their first puppy DHLLP vaccination which covers ( distemper, hepatitis, leptospirosis, parvo and parainfluenza) .
Your Puppy will need additional vaccinations, plus rabies vaccine to complete the series for the first year of the puppies life.
Click Here to see our Full Health Guarantee
---
We need to make sure your home is safe.
Before bringing your new puppy home, just like a small child the puppy will get into anything they can so we will need to puppy proof your home. Eliminate potential hazards around the house and pay attention to the following items:
Keep breakable objects out of reach.
Deny access to electrical cords by hiding or covering them; make outlets safe with plastic outlet plugs.
Safely store household chemicals, meds, plants ect
Be aware that some foods and plants are toxic to dogs, we send a list of toxic food and plants with all puppy buyers
In the garage, be sure engine lubricants and other poisonous chemicals (especially antifreeze) are safely stored.
If you own a pool or hot tub, check the cover or the surrounding fence to be sure they're in good condition
When pups are young rawhide strips can be a choking hazards!
Avoid heat stroke and DO NOT leave your animal locked in a car
After your puppy comes home there are health risks for PARVO and distemper! You should not allow your puppy to be in public grounds until the vaccinations have been completed and you get the OK from your Veterinarian!
---
Special Puppy Concerns:
​​​The ideal time to bring home a new puppy is when the house is quiet. Discourage friends from stopping by and don't allow overnight guests.
​ Don't treat a puppy as young as 6 to 12-weeks old like an adult dog. Treat him the same way you would your own infant: with patience, constant supervision and a gentle touch. The way you interact with your puppy at this age is critical to his socialization.
Don't bring home a puppy while you're on vacation so you can spend a lot of time with him. Instead, acclimate him to your normal, daily routine.
Supervise your puppy at all times and interact with him regularly.
Be alert for signs (sniffing and circling) that he has to go to the bathroom, then take him outside immediately.
A young puppy has no bladder control and will need to urinate immediately after eating, drinking, sleeping or playing. Depending on how active the puppy is allowed to be during the day will depend on how often they need to go potty And At night, he may need to relieve himself at least every three hours.
Don't punish an accident. Never push his nose in the waste or scold him. He won't understand, and may learn to go to the bathroom when you're out of sight.
Praise your puppy every time he goes to the bathroom outside.
Feed your puppy a food designed for puppies. Like a baby, he needs nutritious, highly digestible food.​​
After your puppy comes home there are health risks for PARVO and distemper! You should not allow your puppy to be in public grounds until the vaccinations have been completed and you get the OK from your Veterinarian!
---
Below is a list that you can do before your puppy arrives.
Follow us on Facebook, Find us on our very own Facebook group that is just for Doodle Heaven owners, we also have instagram we use social media and offer advice, you can also get connected with other families that have a Doodle Heaven puppy.
Before your new baby comes home you will want to go ahead and set up an appointment with your Veterinarian, Make your Vet Appointment is within 3 days once you pick your puppy up. If you do not have a Veterinarian ask around, get references from several people in your area.
Check into puppy obedience classes, it always helps to have a experts help with teaching your new family member. Ask around and get references around your area on a Certified Trainer.Some recommended books I suggest and you can find them on Amazon
Dr.Ian Dunbar - Before and After getting your puppy
Pat Miller - The Power of Positive Dog Training
Alan Kenworthy - Goldendoodles The Owners Guide from puppy to adult
4) Order NuVet Supplements before your puppy arrives.
NuVet Plus™ Supplements.

Get the best supplements for your dog or puppy.
All of our dogs and puppies enjoy these daily and are used like a daily treat, taken right from the hand.

Nuvet Supplements is the #1 Vitamin/Mineral Supplement on the market from all natural, human grade ingredients. There is no better product on the market to get your pet healthy and keep your pet healthy.

​Is your pet suffering from :
Allergies, Skin / Coat Problems ,Itching ,Hot Spots , Arthritis / Joint Problems , Premature Aging , Low Energy , Diabetes
Liver Problems , Digestive Problems , Tearing , Heart Disease ?
Then this product is a must have to complete your dog's diet for maximum health and nutrition.
​
Nuvet is one of the very few pet supplements manufactured in an FDA (human grade) pharmaceutical manufacturing facility. ​
This product has no sugars or fillers and even comes with a Money-Back Guarantee.​

​Click Here to Order and get on autoship, you do not want to run out!
Call 1-800-474-7044 or order online and use order code - 43476 for a discount
Your puppy has been on NuVet Vitamins since 6 weeks of age, I highly recommend to continue NuVet
Our puppies will be sent home with a 3 day supply​


The AutoShip program allows you to receive a 15% discount on NuVet Plus®. AutoShip is an automatic refill of your NuVet Labs® supplements; the shipping frequency is calculated according to the number of pets you have and how many supplements they each receive per day. You will continue to receive the discount for as long as you stay on the program, and you may cancel at any time, for any reason, with no cancellation fees or penalties.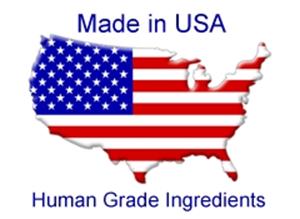 ---
Basic puppy supplies you will need

​I recommend to shop before your new puppy comes home so you can have everything when arrival!!
Puppy food, we feed American Journey puppy food, we found American Journey on Chewy and decided to give it a try on few of our dogs and puppies first, they loved it and we noticed good stool, healthier coats. With American Journey you can only get it on the chewy website, it is USA made and grain free, you can sign up with chewy and have the food auto shipped directly to your home! We will be sending home a small bag to last a couple of days, if you do switch foods we highly recommend not feeding any products made in China but USA made only. and make the switch gradually as it will mess up the puppies stomach and cause loose stool and sickness.
Puppy treats/snacks, we feed American Journey Oven Baked treats, Eukanuba,Iams or wellness puppy treats or we make our own, We have a lot of recipes on Pinterest. A great way to find homemade dog snacks. Again we recommend not feeding any products made in China
Food bowls, the best is the stainless steel bowls, we recommend the non tip.
Toys, Toys, Toys! Puppies love to chew and play so be sure to have plenty of chew toys, please be careful when picking out new toys for your puppy. If the toys are cheap and easily destroyed, a puppy can ingest parts of the toys which can be dangerous. Rawhide is okay in moderation We like Nylabones and Kong toys. Look for chew toys that will massage the gums and teeth, ball that roll and you can throw... anything that moves that they can chase!
We also HIGHLY recommend buying a stuffed teddy bear, for your new puppy to cuddle with, it helps them with adjusting since they will be separated from littermates
Cleaning supplies for the UH OH's in the house, along with plenty of paper towels.
Puppy Shampoo, make sure it is made just for puppies as the Adult and people shampoo can harm the skin. You can order puppy shampoo at NuVet when you order your Supplements for your puppy!
Slick brush and comb to keep your puppy looking good, we also recommend to check around (if you do not have one yet) on responsible and good groomers. Make sure they know how to do a Goldendoodle cut and not just shave him/her down.
Crate this crate will be your puppy's room and safe place, his scent in the crate will provide comfort and sense of security during these stressful times. ​I recommend the Midwest Life Stages dog crate from Amazon, they have all sizes needed and also comes with a divider so your you can make the crate small and large as the puppy grows...
Buy the mid west life stage crate on amazon or chewy for a great price!
​Identification tags: you will want to get some type of identification with your name and number and your veterinarian's name and number.
Collar, for a comfortable collar fit, allow for two-fingers of space between the collar and your dog's neck; consider using an adjustable collar.
Visit
BearBlingbyMB
- for USA homemade dog collars and leashes -
​
Tell Beth Brittany sent you!
Buy your dog food, supplies at Chewy.com or amazon.com
​GOOD PRICES AND AUTO SHIPMENTS!
---
Children and Pets
Ideally, your kids should help you choose your new puppy. When you bring him home, don't let them play with him constantly. Puppies in particular need a lot of rest just like a growing child. Limit puppy-children play sessions to 15-30 minute periods 2-3 times a day. Young children may be tempted to shout at a puppy if they think he's doing something wrong. Be sure they understand that puppies and dogs can be easily upset and startled by loud noises.No teasing. Keeping a toy just out of reach will reinforce bad habits such as jumping up and excessive barking.Wagging tails and play biting can be too rough for some young children. Supervise interaction and separate them if the play is too rough. Teach kids to care for a dog by showing them how to feed and groom him.Helpful hint to help stop puppy biting -We use this method on our puppies that start using you as a chew toy! With your hand grab the pups mouth hold his muzzle in your hand like a muzzle and say NO BITE! You don't have to yell just in a low hard voice...
A Goldendoodle is an excellent family companion, and very popular. So keep in mind that a dog's life span can be up to 15 + years, they are a life time commitment and not just a teddy bear that you can throw away once old, not new or just tired of playing with.

~With patients, love and the right training you will have your new best friend!