Planned Litters
---
How we raise our Doodle Heaven babies!
Here at Doodle Heaven we strive to raise our puppies in a comfortable and health environment where they are handled, loved socialized and trained in our home from day one, we work very closely with each family to match them with the perfect family member. We perform the
Bio-Sensor
on our puppies, this is done at age 3 to 16 days. Our puppies will spend the first 6 weeks learning things that mom wants to teach her little ones.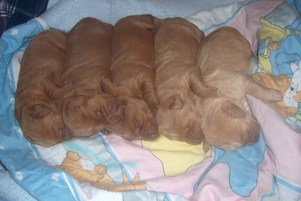 We firmly believe that raising puppies within the home environment benefits and the puppies are less susceptible to illness do to the sanitation of the area, they are more socialized and we can observe the mother and puppies closely during the critical ages and they are use to the inside noises, such as vacuums, TV's, house hold noises and other dogs (big and small). And they all receive the extra TLC needed to become a perfect family companions!
---
Please choose wisely when adopting a new member of your family...
​We understand that you have many choices of breeders where you can select your Goldendoodle baby. You will see a variety of prices among these breeders. But keep in mind that you often get what you pay for. Here at Doodle Heaven we feel in order to get the best quality pet you will need to select a quality breeder who as taken the necessary steps to ensure that the parent dogs and the puppies are as healthy and genetically sound as possible and have the best for long run. It's not cheap to raise dogs, nor is it cheap to breed them. We spend a lot of time, money and effort into our breeding program to make sure we are breeding the best of the Goldendoodle breed.