Miniature Australian Labradoodle puppies are here!!!
Click links below to see more information
---
| | |
| --- | --- |
| | My name is Denna and my family and I have been raising our wonderful puppies in the Beautiful State of Arkansas since 2001. ​I have 50 years of animal experience and along with my daughter Brittany who is a Vet Tech we are able to give the proper care needed for each and everyone one of our dogs and puppies, my husband and son help with the building projects when needed and as a family we work together to have the best set up and care for our animals. Brittany my daughter raises the Australian Labradoodles and also does the website and photos. We thank God everyday as he has blessed us to be able to raise our precious puppies and bless other families. As a family we strive to provide your family with the very best of the Doodle breed. |
Our puppies are known for their Gentle, Loving and Easy going Temperaments and many have become Therapy Companions and expect lots of puppy kisses, as our puppies love to give kisses! We are honest in what we do and we want each family to be happy with their new family member and when you are happy we are happy and you will tell others about us! Our main concern is to make sure our puppies go to wonderful loving homes where they will be loved and enjoyed for the dogs lifetime which can be up to 15 + years.

​We do not just breed puppies and send them on their way, we spend countless hours giving Love, Care, Cleaning after, Socializing and starting preliminary house training and learning new things, we have a 24/7 job! Many breeders consider the job done once the puppy has been purchased. Not us! We provide ongoing support for our puppy families and also provide re-home policy in our Health Guarantee for each and every Doodle Heaven puppy.
---

Our main goal for our breeding program is to find prospective parent dogs who exhibit the perfect blend of health, temperament, sound structure and beauty. We have extensively searched to find some of the best quality dogs to join our family and breeding program. Our dogs are paired so that they compliment each other to produce puppies that best represent the best of their breed standards. English Miniature Goldendoodles,

they are all F1b or further back and are from an English line, we do not use Toy Poodle in our lines.

Miniature Australian Labradoodles

- Learn about how wonderful the ALD are.. Brittany my daughter has the ALD's

and after much thought and research we have decided to add the

Bernedoodle,

​We know you will fall in love with the Bernedoodles just as we have!
Please take the time to read over our website and learn about us and our breeding program. We have provided lots of helpful information that should address most of your initial questions. We love hearing from you so please feel free to contact us anytime.
​
You Can reach us by emailing denna@doodleheaven.com or for a faster respond call or text us at 501-258-0288
Family Reviews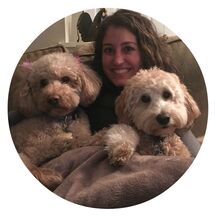 Bred and Designed with family in mind.