About English Goldendoodles
Do your research before purchasing your Goldendoodle as when doing your research you will see what people call American or English Goldendoodle, we have the English Retrievers in our lines..
The English Cream Goldendoodle gets its heritage from the European Golden Retriever lines instead of American Golden Retriever lines. Both European and Americans are full bred Golden Retrievers, but there are differences in the lines that have been bred. This is due to the AKC standards in breeding vs the UKC or European standards in breeding. When breeding for show a breeder tries to breed parent dogs that will produce the "look" that the show ring requires for each breed. Since the UKC standard is different than the AKC, the look of the English Cream Golden is different than the American. Basically they are more stocky in build with a more square head, a broader nose, and shorter legs. They carry a bit more weight and are not as "lanky" as the Americans. They also allow a broader spectrum of color in the UKC ring. Thus you have the beautiful ultra light cream color. The name "Teddy Bear" Goldendoodle comes from the adorable teddy bear look that is produced from breeding with the European lines.They have the same mellow,loyal, happy go lucky, happy to be with you, of the golden, and the quick smarts, highly intuitive, sensitivity, of the poodle , A calmer more easy going temperament, A thicker more dense coat. Shorter legs, a broader head, a shorter broader nose, and a stockier more dense chest and body build. This gives the Goldendoodle a much more balanced look when combined with the long legged, long nosed, sleek poodle. The "Teddy Bear" look.
About Bernedoodles
A Bernedoodle is the result of crossing the majestic, cheerful Bernese Mountain Dog with the beautiful, intelligent Poodle.
​I have been breeding English Goldendoodles for 16 years and after several years of research, we finally decided to purchase our first Bernese and Bernedoodle from the top reputable breeders, after purchasing our first bernedoodles and watching them grow we knew we found our next breed! The Bernedoodles are very much like our Goldendoodles they are very family oriented and love to be with you and your family, Bernedoodles have a fun, goofy/entertaining personality, loyal, great with children and other animals, loving, and they are EXTREMELY SMART, which makes them very easy to train, but can be slightly more stubborn so it may take a little longer on training but with consistency and you will have the perfect Bernedoodle baby! They are highly social and because of their intelligence and can become bored and misbehave if not socialized and trained properly.

The best way one of our families described the bernedoodle "They have a gentle soul"

If you are looking for a Standard Goldendoodle from us we highly recommend looking into our Standard Bernedoodles! We will be happy to talk to you more about the Bernedoodle and make sure they will be a good fit for you and your family!
​
About Australian Labradoodles
The Labradoodle are a relatively new breed of dogs that were first bred by Wally Cochran in the 1970's. Wally Cochran, of The Royal Guide Dogs in Victoria Australia, A vision impaired woman with a husband who was allergic to dogs had contacted Wally, to see if he could fulfill her request for a service dog. After numerous breedings between Poodles and Labrador Retrievers, Wally produced a puppy with an allergy friendly coat. This litter was the official beginning of the Labradoodle breed.

To continue the efforts of Wally Conron, breeders in Australia began breeding Labradoodles and were determined to produce litters with consistent conformation, coat type, and temperament. During the 90's, a number of other dog breeds were bred into the Labradoodle lines to assist in this effort. ​While originally developed in Australia, responsible American breeders are dedicated to the continued development of this wonderful and unique breed.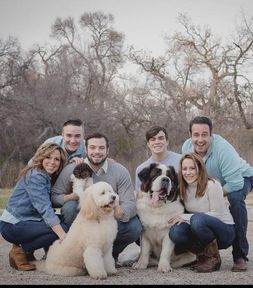 Unlike the American Labradoodle which is a cross of the Labrador Retriever and the Poodle, the Australian Labradoodle originated 1900's and is a blend of the : ​​​​
American Cocker Spaniel
English Cocker Spaniel
Irish Water Spaniel
Curly Coated Retriever
Infused into the original parent stock of the Labrador Retriever and Poodle.

An Australian Labradoodle DOES NOT have Australia Shepherd in it. ​
---
​Why An Australian Labradoodle
With the development of the Australian Labradoodle breed by the Tegan Park and Rutland Manor, the Australian Labradoodle has become a desired breed for many reasons. The characteristics that have been selectively breeding and developing for years, combined with a program of stringent health guidelines and standards.
The Australian Labradoodle has become a breed that is noted for its
high intelligence
no to low shedding
easy trainability
excellent and loyal family companion
eagerness to please
Combine all this with excellent health and fantastic temperaments and you have the dog we love!
What is an Australian Bernedoodle?
Our Australian Bernedoodles are the perfect blend of the Bernese Mountain dog, the Poodle and the Australian Labradoodle. The Australian Bernedoodle will be a very social dog with a comical, joyful personality. The may be a bit energetic at play but should calm quite easily. They are wonderful with children, highly intelligent and easy to train. They make ideal family companion dogs as well as wonderful therapy and emotional support companion dogs.
Remember It is very important to know that an Australian Labradoodle is NOT a result in adding an Australian Shepherd, there is no Australian Shepherd "Aussie" in an Australian Bernedoodle or Australian Labradoodle. I would not add any aussie in our program as they have a very high drive to work and need a job to do.. As a breeder prefer more of a low drive family pet!

Extra Information
What Poodles really are
What most people don't know about the poodle is.....
1. They were originally bred for hunting
2. They are wonderful retrievers
3. They are highly intelligent and easy to train
4. They DO NOT have to be shaved or clipped in a silly hair cut and they look very beautiful when given a great clip!
5. They love people and love to be with people
6. They sometimes seem to know exactly how you feel as they are highly intuitive and sensitive to your feelings
7. They are nonshedding and are wonderful for people with allergies

WHAT ABOUT GROOMING?
Before purchasing you need to know that they do need to be groomed, yes they are so cute with the long shaggy teddy bear look but they do need to be brushed daily and trimmed often some more than others, and some need clipped more often than others. It depends on the type of coat your doodle has. You should have them groomed about every four to six weeks, with a good brushing at least once a week. I find that a great time to brush out our Goldendoodles is in the evening while watching my favorite TV show. I also recommend that you purchase a good brush, recommended by your groomer to get out matts.