About Australian Labradoodles (ALD)
---
Brief History...
The Labradoodle are a relatively new breed of dogs that were first bred by Wally Cochran in the 1970's. Wally Cochran, of The Royal Guide Dogs in Victoria Australia, A vision impaired woman with a husband who was allergic to dogs had contacted Wally, to see if he could fulfill her request for a service dog. After numerous breedings between Poodles and Labrador Retrievers, Wally produced a puppy with an allergy friendly coat. This litter was the official beginning of the Labradoodle breed.

To continue the efforts of Wally Conron, breeders in Australia began breeding Labradoodles and were determined to produce litters with consistent conformation, coat type, and temperament. During the 90's, a number of other dog breeds were bred into the Labradoodle lines to assist in this effort. ​While originally developed in Australia, responsible American breeders are dedicated to the continued development of this wonderful and unique breed.
The difference between the Labradoodle and Australian Labradoodle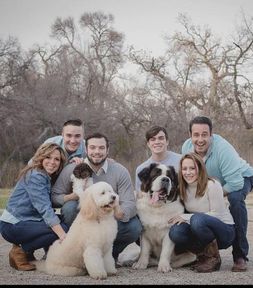 Unlike the American Labradoodle which is a cross of the Labrador Retriever and the Poodle, the Australian Labradoodle originated 1900's and is a blend of the : ​​​​
American Cocker Spaniel
English Cocker Spaniel
Irish Water Spaniel
Curly Coated Retriever
Infused into the original parent stock of the Labrador Retriever and Poodle.

An Australian Labradoodle DOES NOT have Australia Shepherd in it. ​
---
​Why An Australian Labradoodle
With the development of the Australian Labradoodle breed by the Tegan Park and Rutland Manor, the Australian Labradoodle has become a desired breed for many reasons. The characteristics that have been selectively breeding and developing for years, combined with a program of stringent health guidelines and standards.
The Australian Labradoodle has become a breed that is noted for its
high intelligence
no to low shedding
easy trainability
excellent and loyal family companion
eagerness to please
Combine all this with excellent health and fantastic temperaments and you have the dog we love!
Sizes
Australian Labradoodles come in three sizes:

Miniature are 14"-16" tall and weigh 15-30lbs
Medium are 17"-20" tall and weigh 30-45lbs
Standard are 21"-24" and weigh 45-65lbs
What we breed
We have carefully selected our Australian Labradoodle's that have a nice lineage and a long pedigree.
We raise Miniature size only
We have variety of colors..
Brown/white, black/white, red/white and In 2018 we hope to have parti along with chocolate colors.